We offer a CCTV inspection service where a CCTV camera is put up the chimney, recording a video image showing the condition of your chimney.
This service can help you make a decision when opening up a chimney that has not been used for a number of years or if you are looking at a change of use.
A CCTV inspection can also pick up faults in a chimney liner such as holes or installation faults.
If you are looking at buying a property with a chimney, it is a good idea to have the chimney checked before buying.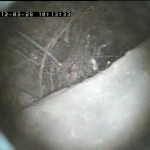 Click here for video CCTV
If you click on the above link it will show a blockage that a different sweep had not removed when it was swept just a couple of weeks earlier. The nest had been there for many years and when swept properly approximately 20kg of soot and mortar came down. It also showed that the chimney was in a bad condition and had to have a liner fitted.