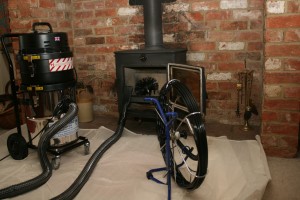 Chimney Sweeping
99% of the time I sweep chimneys the traditional British way which has worked for the last 150 years using rods and brushes. I also use a German "Viper", especially on lined chimneys, as it has no joints that could damage the stainless steel liner . The modern part of chimney sweeping is sheeting up and cleaning away soot and debris at the bottom of the flue. I use a modern British made hi-tech vacuum cleaner with two motors and three sets of filters to eliminate all soot from entering the room. The fireplace is sealed by a tried and tested method used by most modern chimney sweeps.
Certification
With sweeping a certificate is always issued for your home pack and insurance purposes.
CCTV Inspection
We use a modern British made colour CCTV camera to record the inside of a chimney. The recording can be transfered onto a DVD for your own records along with a report on the chimney condition. Please refer to the CCTV page.
Pressure Testing

Through my contacts in the solid fuel industry I can recommend a company that carries out pressure testing of flues. The equipment used is a computerised system that is recalibrated at regular intervals and the result is a 'yes' or 'no' if your flue is suitable for solid fuel, gas or oil burners.
Sweeping of Gas Fires/Flues
Very often we are called upon to sweep a chimney for a customer who is having a gas fire removed/installed. The appliance must be disconnected before sweeping by a gas fitter who is Gas Safe registered. We can arrange for this to take place prior to sweeping and also for the fire to be refitted if required.
Carbon Monoxide Detectors
We would recommend that all homes have a Carbon Monoxide Alarm fitted. We carry a number of these and can fit one if required to your property.
Fire Alarms & Detection Systems
If your insurance company requires a fire detection system or alarms fitted, I can recommend a company to advise you.