Incorrect gas installation
I was asked to arrange for the sweeping the chimney of a gas fire. I arranged for a gas fitter to remove the fire. The homeowner had been in the house for approx 9 years, and the gas fire was already in the house when they bought the house.
I asked the homeowner if there had been having any problems. He said that he and his wife had been getting headaches and felt sleepy when the fire was on.
Discovery
Pictures 1 & 2 shows that we found the rear vent of the fire had a modified "Persil" tin glued to the rear of the gas fire. A flue pipe was resting on a small piece of wire mesh in the cut out. The flue pipe was not sealed. The "Persil" tin was full of nest material.
The gas liner was pushed into the top of the flue pipe with no joint. The liner length was approx 18 inches long, and was there purely for show.
When I came to sweep the chimney, it was blocked with a jackdaw nest as no cowl was fitted.
Needles to say, the fire was condemned.
The colour in the homeowners face visibly drained when he saw the rear of the fire & the birds nest.
Tarred up woodburner flue pipe
I was asked to sweep a woodburner that the owner said was smelling a "bit smokey". When I took the baffle plate out I found this. The 6 inch flue pipe was restricted with thick tar to an opening of approx. 1 1/2 inches.
The owner had been burning damp resinous wood. This could have caught fire or carbon monoxide could have leaked back into the room.
Misaligned liner
I was asked to check a chimney which had not been working correctly. When the fire was lit smoke could be smelt in different parts of the house. Looking at the picture below you will see a big gap at the liner joint. The builder instead of using a bend had put a straight length of clay liner at an angle and put some mortar to create a joint. The mortar had deteriorated exposing an open joint. Smoke was now leaking into the cavity wall thus sending smoke around the house.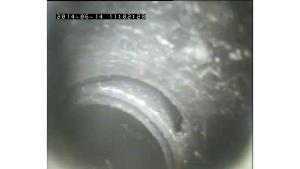 Wood Flooring – When it goes wrong !
When I went to sweep the chimney below I noticed the stone hearth had some scorch marks on one side. When I moved the hearth stone, the full problem could be seen. The wooden flooring went right up to the fireplace and had been burning under the stone hearth.